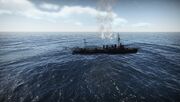 The Clemson-Class  was a series of 156 destoyers used from after World War I through World War II. They were commissioned from 1919 to 1922, and built by Newport News Shipbuilding & Dry Dock Company, New York Shipbuilding Corporation, William Cramp and Sons, Bethlehem Steel Corporation, Mare Island Naval Shipyard, Norfolk Naval Shipyard and Bath Iron Works.
A slight re-design of the previous Wickes-class, the Clemson Class was the last of the pre-World War II flush deck destroyers, and would be the most numerous destroyer in use by the USN until the advent of the Fletcher-class destroyers.
The main goal in the design of the Clemson Class was to focus more on anti-submarine warfare. Its speed was to be reduced to between 26 and 28 knots, with a modification to the hull to shorten turn radius. The general board dismissed both these ideas, keeping the 35 knot speed, keeping the hull similar in order to facilitate production, adding wing tanks above the waterline for increased range, adding an enlarged rudder, and a pair of 3inch guns to the deck house.
The Clemson Class ships were orginally armed with  4 x 4inch/50 cal guns, 1 x 3inch/23 cal guns, and 12 x 21inch torpedo tubes. Those still in service with the USN during World War II had their 4inch guns removed, and transferred to the merchant marine. They were then armed with a number of 3inch/50 cal dual purpose guns, for increased AA abilities. Quite a few Clemson's were converted to high speed transports, mine layers, mine sweepers, and seaplane tenders, recieving the designations APD, DM, DMS, and AVD, respectively.
See Also
[
]