Lavochkin-Gorbunov-Gudkov LaGG-3
Edit
The Lavochkin-Gorbunov-Gudkov LaGG-3 (Лавочкин-Горбунов-Гудков ЛаГГ-3) w
as a Soviet fighter aircraft of World War II. It was a refinement of the earlier LaGG-1, and was one of the most modern aircraft available to the Soviet Air Force at the time of Germany's invasion in 1941.
Overweight despite its wooden construction, at one stage 12 LaGG-3s were being completed daily and 6,528 had been built when factory 31 in Tbilisi switched to Yak-3 production in 1944.
Design and development
Edit
The prototype of the LaGG-3, I-301, was designed by Semyon A. Lavochkin, Vladimir P. Gorbunov and Mikhail I. Gudkov. It was designated LaGG-3 in serial production. Its airframe was almost completely made of timber, with crucial parts processed withBakelite lacquer. This novel wood-laminate construction was more durable than regular timber, was incombustible, and didn't rot. The full wooden wing (with plywood surfaces) was analogous to that of the Yak-1. The only difference was that the LaGG's wings were built in two sections the fuselage was the same as the MiG-3's. 
But the LaGG-3's armament was considered formidable. It consisted of a large-calibre (12.7 mm) UBK machine gun, which was installed between the "V" of the cylinders of the engine and two synchronized ShKAS machine guns. Consequently the weight of fire was 2.65 kg/s, making the LaGG superior to all serial Soviet fighters, as well as the 1941 version of the Messerschmitt Bf 109.[3] The MiG-3, which shared exactly the same weapons fit was (and is) considered extremely under-gunned compared with the Yak-1, which had a 20 mm cannon and two 7.62 mm machine guns, and even the later versions of the Polikarpov I-16, which had two cannon and two machine guns.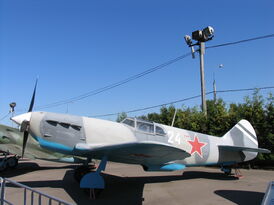 General characteristics
Crew: One
Length: 8.81 m (28 ft 11 in)
Wingspan: 9.80 m (32 ft 1.75 in)
Height: 2.54 m (8 ft 4 in)
Wing area: 17.4 m² (188 ft²)
Empty weight: 2,205 kg (4,851 lb)
Loaded weight: 2,620 kg (5,764 lb)
Max. takeoff weight: 3,190 kg (7,018 lb)
Powerplant: 1 × Klimov M-105PF liquid-cooled V-12, 924 kW (1,260 hp)
Performance
Maximum speed: 575 km/h (357 mph)
Range: 1000 km (621 mi)
Service ceiling: 9,700 m (31,825 ft)
Rate of climb: 14.9 m/s (2,926 ft/min)
Wing loading: 150 kg/m² (31 lb/ft²)
Power/mass: 350 W/kg (0.21 hp/lb)
Armament
2× 12.7 mm (0.50 in) Berezin BS machine guns
1× 20 mm ShVAK cannon
6× RS-82 or RS-132 rockets up a total of 200 kg (441 lb)

Development laGG-3, laGG-3-8, laGG3-11