What is a light tank?
Edit
A light tank is a tank that usually trades firepower and armor for speed and acceleration. These combat vehicles are mainly used to counter slow moving tanks or tanks with a slow turning radius. Their relatively small size makes them valuable for stealth on the battle field; and their high speeds allow for quick transportation to assist troops in battle. Light tanks are able to quickly and efficiently capture a point and spot enemies from a distance.
Light tanks also have a feature to "spot" enemy vehicles for your entire team to see and can help make repair faster on allied vehicles.
Current spotted and/or planned light tanks.
German Light Tanks
Edit
Pz.Kpfw II C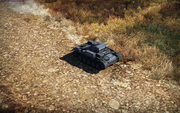 Pz.Kpfw II F
US Light Tanks
Edit
Russian Light Tanks
Edit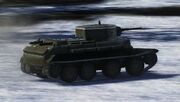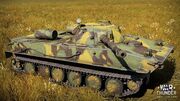 BMP-1
BMP-2
BMP-2M
BMP-3
Object 906
Object 685
Japanese Light Tanks
Edit
British Light Tanks
Edit
Canadian Light Tanks
Edit
Community content is available under
CC-BY-SA
unless otherwise noted.