The MC. 202 Folgore is a Rank 4 Italian aircraft. An impressive little fighter, it is the primary reason to advance through the Italian line.
Wikipedia: Macchi C. 202 Folgore
The Folgore was an Italian fighter first introduced in 1941. Designed as a replacement for the outdated MC. 200, it was fitted with the Daimler-Benz 601, the engine that powered the legendary Bf. 109 fighters. It was known for its ability to compete with top dogfighters of the day, such as the Spitfire.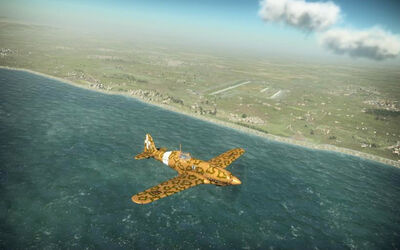 In War Thunder, the Folgore is extremely capable, and can take down planes a few tiers above it. Its main advantage is its maneuverability. However, it takes some aiming skill in order to excell with this craft; like most early German/Italian planes, it is lightly armed.
---
Stats: 
Top Speed: 600km/h
Armament: 12.7mm machine gun x2, 7.7mm machine gun x2
Max Repair Cost: 400 Lions