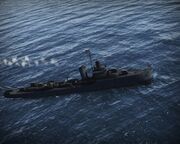 Consisting of 12 destroyers, commissioned in 1939 and 1940, the Sims class was the last of the 1500ton pre-war destroyers. All ended up scrapped or used as targets. No Sims class survived past 1946, where the last 4 were sunk at the Bikini Atoll tests.
The class was constructed by 7 different companies: Bath Iron Works, Federal Shipbuilding, Newport News Shipbuilding, Boston Navy Yard, Norfolk Naval Shipyard, Charleston Navy Yard, and Philadelphia Naval Shipyard.
The Sims class marked the introduction of the Mark 37 Gun Fire Control System controlled by a Ford Mark 1 Fire Control Computer deep within the ship's hull. The Mark 37 would be improved upon, and extensively used to control 5 inch guns on ships of all sizes into the 1970's.
All Sims class were armed with four 5in/38 cal guns, 2 Bofor 40mm cannons, and 8 21" torpedo tubes (Some early ships had 12, but all were converted to 8 tube layout before the start of World War II).
Ships in Class
Edit
Ship Name
Commissioned
Decommissioned
Fate
Sims (DD-409)
1 August 1939
Sunk by Japanese aircraft in the Battle of the Coral Sea, 7 May 1942. (14 survivors).
Hughes (DD-410)
21 September 1939
28 August 1946
Damaged during Operation Crossroads atomic tests at Bikini Atoll, July 1946. Sunk as target, 16 October 1948.
Anderson (DD-411)
19 May 1939
28 August 1946
Sunk during Operation Crossroads atomic tests (Test "Able"), at Bikini Atoll, 1 July 1946.
Hammann (DD-412)
11 August 1939
Sunk by Japanese submarine I-168 during the Battle of Midway with the same torpedo spread (salvo) that also sunk the USS Yorktown (CV-5), 6 June 1942. (80 killed).
Mustin (DD-413)
15 September 1939
29 August 1946
Damaged during Operation Crossroads atomic tests at Bikini Atoll, July 1946. Sunk as target off Kwajalein, 18 April 1948.
Russell (DD-414)
3 November 1939
15 November 1945
Sold for scrap, September 1947.
O'Brien (DD-415)
2 March 1940
Torpedoed by Japanese submarine I-19, with the same torpedo spread (salvo) which also sunk the USS Wasp (CV-7)

 

and damaged the

 

USS North Carolina (BB-55), 15 September 1942. Sank 19 October 1942 out from Suva while en route to Pearl Harbor for repairs.
Walke (DD-416)
27 April 1940
Sunk in Naval Battle of Guadalcanal, 15 November 1942. (88 killed).
Morris (DD-417)
5 March 1940
9 November 1945
Sold for scrap, 2 August 1947.
Roe (DD-418)
5 January 1940
30 October 1945
Sold for scrap, August 1947.
Wainwright (DD-419)
15 April 1940
29 August 1946
Damaged in the Operation Crossroads atomic tests at Bikini Atoll, July 1946. Sunk as target in Pacific, 5 July 1948.
Buck (DD-420)
15 May 1940
Sunk by U-616 off Salerno, Italy, 9 October 1943. (150 killed)