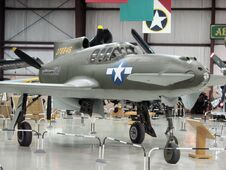 Curtiss-Wright XP-55 Ascender
Edit
The Curtiss-Wright XP-55 Ascender (company designation CW-24) was a 1940s United States prototype fighter aircraft built by Curtiss-Wright. Along with the Vultee XP-54 and Northrop XP-56, it resulted from United States Army Air Corps proposal R-40C issued on 27 November 1939 for aircraft with improved performance, armament and pilot visibility over existing fighters; it specifically allowed for unconventional aircraft designs. A highly unusual design for its time, it had a canard configuration, a rear mounted engine, swept wings and two vertical tails. Because of its pusher design, it was sarcastically referred to as the "Ass-ender".
Like the XP-54, the Ascender was initially designed for the Pratt & Whitney X-1800 engine and had to be redesigned when that engine project was cancelled. It would also be the first Curtiss fighter aircraft to use tricycle landing gear.
Specifications (XP-55)
Edit
Curtis XP-55 Ascender side view.
General characteristics
Crew: one pilot
Length: 29 ft 7 in (9.0 m)
Wingspan: 40 ft 7 in (12.4 m)
Height: 10 ft 0 in (3.0 m)
Wing area: 235 ft² (21.83 m²)
Empty weight: 6,354 lb (2,882 kg)
Loaded weight: 7,710 lb (3,497 kg)
Max. takeoff weight: 7,930 lb (3,600 kg)
Powerplant: 1 × Allison V-1710-95 liquid-cooled V12 engine, 1,275 hp (951 kW)
Performance
Maximum speed: 390 mph at 19,300 ft (628 km/h)
Range: 635 mi (1,020 km)
Service ceiling: 34,600 ft (10,500 m)
Rate of climb: 2,350 ft/min (11.9 m/s)
Wing loading: lb/ft² (kg/m²)
Power/mass: 0.16 hp/lb (0.27 kW/kg)
Armament
4 × 0.50 in (12.7 mm) machine guns in the nose