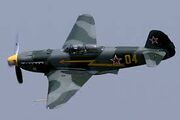 Yak-9T
Note: Base stats only (no upgrade installed)
Rank
IIV (4)
Battle Rating
7.7
Type
Attacker
Maximum Speed on height
572 km/h

4000 m
Maximum Altitude
18000 m
Turn Time
8.9 seconds
Rate of Climb
24.4 m/s
Takeoff Run
366 m
Armament
1x 37.0 mm NS-370 cannon (300 rds)

1x 12.7 mm Berezin UB machine gun (200 rds)

Burst Mass
3.87 kg/s
Yak-9T
Yak-9 was armed with a 37.0 mm NS-37 cannon with 30 rounds instead of the 20.9 mm ShVAK. It's cockpit was moved 0.4 m (1 ft 3 in) back to compensate for the heavier nose. Initially poor quality control led to multiple oil and coolant leaks from cannon recoil. Recoil and limited supply of ammunition required accurate aiming and two-three round bursts. Yak-9T was widely used against enemy shipping on the Black Sea and against tanks, but was also successful against aircraft with a single cannon hit usually sufficient to tear apart the target. Virage time: 18-19 seconds.
General characteristics thumb|306px|link=
Crew: One
Length: 18.55 m (128 ft 8 in)
Wingspan: 9.74 m (31 ft 11 in)
Height: 3.00 m (9 ft 10 in)
Wing area: 17.2 m² (185.1 ft²)
Empty weight: 2,350 kg (5,170 lb)
Loaded weight: 3,117 kg (6,858 lb)
Powerplant: 1 × Klimov M-105 PF V-12 liquid-cooled piston engine, 880 kW (1,180 hp)
Performance
Maximum speed: 572 km/h at altitude (367 mph)
Range: 1,360 km (845 miles)
Service ceiling: 10.000 m (30,000 ft)
Rate of climb: 24.4 m/s (5,380 ft/min)
Wing loading: 181 kg/m² (37 lb/ft²)
Power/mass: 1.28 kW/kg (0.17 hp/lb)
Armament
12.7mm Berezin with 200 rounds (Not-so-good backup gun)

Nudelman-Suranov NS-37 (Low amount ammo for the 37mm, only 30 rounds).